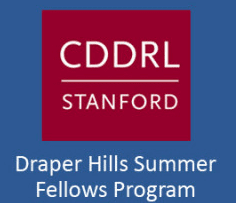 الموعد النهائي لتقديم الطلبات: الاثنين ، ديسمبر 10 ، 2018.
The Draper Hills Summer Fellows alumni network includes 350 alumni from 82 developing democracies worldwide. Their professional backgrounds are as diverse as the problems they confront in their home countries, but the one common feature is their commitment to building sound structures of democracy and development. The regions of Eurasia, which includes the former Soviet Union and Central Asia, along with Africa, constitute almost half of our alumni network. Women represent 46 percent of the network and the program is always looking to identify strong female leaders working to advance change in their local communities.
لمدة ثلاثة أسابيع خلال الصيف ، يشارك الزملاء في الندوات الأكاديمية التي تعرضهم لنظرية وممارسة الديمقراطية والتنمية وسيادة القانون. قدمت هذه الحلقات الدراسية من قبل كلية ستانفورد العليا من كلية الحقوق في جامعة ستانفورد ، وكلية الدراسات العليا في إدارة الأعمال ، ودوائر الاقتصاد والعلوم السياسية ، وهي تسمح للقادة الناشئين باستكشاف نماذج وأطر مؤسسية جديدة لتعزيز قدرتهم على تعزيز التغيير الديمقراطي في بلدانهم الأصلية. .
Guest speakers from private foundations, think tanks, government, and the justice system provide a practitioners viewpoint on such pressing issues in the field. Summer Fellows also visit Silicon Valley technology firms such as Benetech, Google and Twitter to explore how technology tools and social media platforms are being used to catalyze democratic practices on a global scale.
The program is funded by the generous support from Bill and Phyllis Draper and Ingrid von Mangoldt Hills.
الأهلية
This program is aimed at mid-career practitioners working actively in the fields of democracy, development, and the rule of law.
يمكن للمتقدمين العمل كواضعي السياسات ، والأكاديميين ، والمهنيين القانونيين ، وأصحاب المشاريع الاجتماعية ، ورجال الأعمال ، وقادة منظمات المجتمع المدني (مثل ممثلي النقابات العمالية ، والمنظمات غير الحكومية ، ووسائل الإعلام ، وجمعيات الأعمال والجمعيات المهنية).
في صفتهم الحالية ، يجب على المتقدمين اللعب important and influential roles in their country's political, economic, and social development. يجب أن يكون المشاركون قد أظهروا إنجازات مهنية وشخصية في قطاع ذي صلة بالديمقراطية والتنمية وسيادة القانون.
Each year we strive to recruit a diverse group of 25 to 30 individuals who are at the right stage in their professional trajectory to benefit from rigorous academic training to enhance their potential to promote democratic change in their home countries.
Successful applicants will have academic credentials necessary to participate and contribute to the six-hour seminars each day and tackle advanced academic readings to complement the classroom-based curriculum. Ninety-nine percent of our alumni hold a bachelor's degree at the time of their participation in the program but this is not a requirement for admission to the program.
A working knowledge of English is an important prerequisite for participation in the program. It is expected that each fellow has a solid command of written and spoken English to fully benefit and participate in the program.
معيار الاختيار:
Due to the large volume of applications we receive each year to the fellowship program, we take our selection criteria very seriously. Please review the criteria below very carefully before submitting your application to the program. If you do not meet these criteria your application will not be reviewed.
This is not an academic fellowship but meant for practitioners only. We value practical experience over academic credentials, and we admit scholars only to the extent that they are active in government, public policy, civil society, economic development and rule of law. They should hold leadership roles in their respective sector.
Applicants must be mid-career practitioners and have at least ten to 12 years of experience to qualify for the fellowship. Those with more experience are much more competitive in the selection process.
يجب أن يكون المرشحون from and currently reside in a country where democracy is not well entrenched. Candidates residing outside their home country due to war or conflict may be granted exceptions. Applicants will لا يمكن قبوله from countries such as: the U.S., Canada, Australia, Japan, and member states of the European Union.
يجب أن يكون المرشحون على الأقل 28 سنوات من العمر at the start of the fellowship in July 2018. The average age of our fellows at the time of the program is 38.
يجب أن يكون المرشحون يعملون بنشاط في مجال الديمقراطية والتنمية وسيادة القانون. We do not accept candidates who are in the midst of full-time university degree programs.
Candidates must have a solid command of اللغة الإنجليزية كتابة وتحدثا. All program materials and sessions are in English. Participants will also be required to give 7-minute TED-style talks throughout the three-week program regarding their work and motivation. English language proficiency is very important in order to benefit and contribute to the program dialogue.
للمزيد من المعلومات:
Visit the Official Webpage of the Draper Hills Summer Fellowship 2019