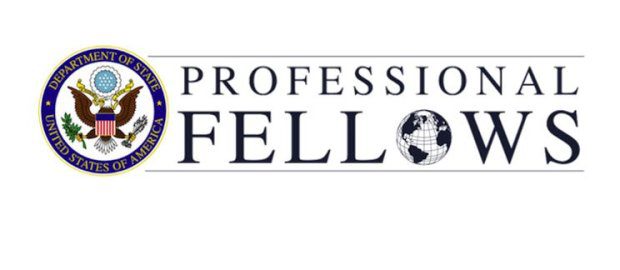 آخر موعد للتسجيل:
15 February 2019 (Libya & Lebanon); 22 February 2019 (Egypt & Algeria)
برنامج الزملاء المحترفين (PFP) for Economic Empowerment, Middle East and North Africa is a two-way exchange program sponsored by the U.S. Department of State and designed to promote mutual understanding, enhance leadership and professional skills, and build lasting, sustainable partnerships between mid-level emerging leaders committed to strengthening their communities through social entrepreneurship and workforce development.
The Professional Fellows Program offers promising young professionals the opportunity to gain training and practical experience working in organizations in the United States. The program is supported by the Department of State, through the Bureau of Educational and Cultural Affairs. There are thousands of alumni from these programs in positions of leadership around the world.
PFP Fellows are placed in intensive fellowships in non-profit organizations, private sector businesses, and government offices for an individually tailored professional development experience. They build a broad network with American and other program participant colleagues as they develop a deeper understanding of U.S. society, enhance their professional skills. American participants who have hosted foreign fellows travel overseas for participant-driven reciprocal programs.
Since 2010 Legacy International has hosted more than 225 Professional Fellows from the countries of Algeria, Egypt, Lebanon, Libya, Kuwait, Morocco, Tunisia and Oman.
تفاصيل البرنامج
Pre and post program virtual exchange and online training activities
6-week US-based program including a business development and social entrepreneurship intensive with University Partner, four week Fellowship placement in businesses and/or offices in Washington, D.C. and One-week host family stay.
US professionals to visit the Fellows they hosted in the US, learn about their countries and cultures, and support their follow-on work
follow-on projects to be carried out by PFP Fellows after returning home, supported by mini-grants.
المتطلبات:
Fall 2019 Program: 12 October – 23 November. Open to fellows from Algeria, Egypt, Libya & Lebanon.
This program is designed for people with strong leadership skills who are early- to mid-career professionals and who are committed to making a lasting positive impact in their communities.
رجال الأعمالو Social Innovators.
أصحاب الأعمال الصغيرة والمتوسطة والمديرين who are investing in innovative socially conscious products and programs.
Individuals working in المجتمع المدني / المنظمات غير الحكومية working on youth workforce training and development, increasing the role of marginalized populations in the economy, building financial literacy, training in technology use and IT development, and other efforts around economic empowerment.
Individuals working in جامعة incubators, accelerators, and job-readiness programs, and programs focusing on business development, financial literacy, sustainable tourism, or economic development.
Individuals working in وكالات حكومية / وزارات، الوطني مكاتب السياسة ، مراكز البحوثوالمكاتب تعمل على زيادة وجود المواطنين ناقصي التمثيل في الاقتصاد.
Eligible candidates must be:
25-40 سنة
مواطن حالي ومقيم في: المغرب أو تونس أو الجزائر أو مصر أو ليبيا أو لبنان
التحدث بطلاقة إلى اللغة الإنجليزية (بما فيه الكفاية للعمل بدوام كامل في زمالة الولايات المتحدة)
لديهم خبرة عمل لا تقل عن سنتين في مجالهم
يعمل حاليا
الاهتمام باستضافة برنامج تبادلي للأميركيين في بلدك
Able to convene 25 or more colleagues for post-trip briefings
أظهروا مهارات قيادية قوية والتزام المجتمع
يوضح المبادرة والعمل الجماعي والانفتاح
سيتم منح الأفضلية لأولئك الذين لم يسافروا من قبل في برنامج تموله الحكومة الأمريكية.
Fellows are selected through an open, merit-based application process.
فوائد:
If you are selected as a finalist, Legacy International and the US Department of State will cover all costs associated with your international travel, visa, and basic living costs in the U.S.
All fellows will arrive and depart from Washington, D.C. The first week of the program will take place in rural Virginia (4 hours south of Washington). In the second week of the program you will return to Washington, DC for the month long fellowship and Professional Fellows Congress.
للمزيد من المعلومات:

Visit the Official Webpage of the Professional Fellows Program Fall 2019