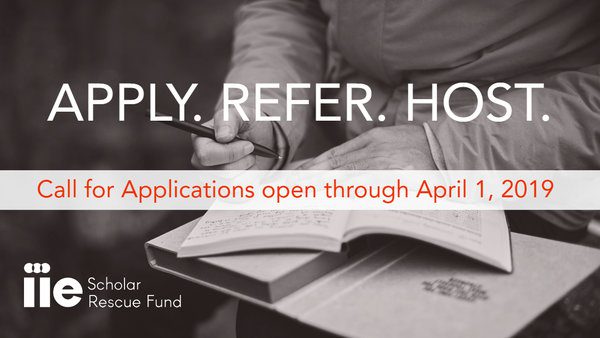 آخر موعد للتسجيل:أبريل 1، 2019.
The Institute of International Education's Scholar Rescue Fund (IIE-SRF) is the only global program that arranges and funds fellowships for threatened and displaced scholars at partnering higher education institutions worldwide. These year-long fellowships support temporary academic positions at institutions of higher learning anywhere in the world where IIE-SRF fellows can continue their work in safety. In most cases, IIE-SRF fellows are eligible to apply for a second and final year of fellowship support.
Since 2002 IIE-SRF has received more than 3,000 requests for assistance from scholars in over 100 countries. We have awarded IIE-SRF fellowships to 793 scholars from 59 countries, placing them at nearly 400 host partner institutions in 44 countries around the world.
معايير الأهلية
Professors, senior researchers, and public intellectuals from any country, academic field, or discipline may qualify. Applications are reviewed for academic qualifications, the quality/potential of the applicant's work, and the severity of the threats that the applicant faces. Preference is given to scholars who:
يواجهون أو هربوا مؤخراً من تهديدات فورية وحادة وموجهة لحياتهم و / أو حياتهم المهنية في بلدانهم الأصلية أو بلدان إقامتهم ؛
عقد دكتوراه أو أعلى درجة في مجال تخصصهم و / أو الذين لديهم خبرة واسعة في التدريس أو البحث في جامعة أو كلية أو أي مؤسسة أخرى للتعليم العالي ؛
إثبات إنجاز أكاديمي متفاني ووعد ؛
سوف يستفيد من منازلهم و / أو المجتمعات الأكاديمية المضيفة.
إجراءات التقديم:
Applicants may apply directly or may have a third party submit application materials on their behalf. The required application materials include:
السيرة الذاتية الحالية أو السيرة الذاتية. يرجى تضمين المعلومات التالية:

الدرجات العلمية (مؤسسة منح الدرجات العلمية ، المجال ، وتاريخ منح الدرجة) ؛
المنصب الحالي (الموقع ، تواريخ التوظيف ، اللقب المهني ، والمسؤوليات) ؛
Previous academic positions (in chronological order, including location, dates of employment, professional title, and responsibilities);
A detailed list of your academic publications (journal articles, books, chapters, exhibitions) including full citations with the name of publication, title of work, date of publication, and page numbers, if possible;
Other relevant academic work (including supervision of master's and Ph.D. theses, conference presentations, grants / honors / awards, professional affiliations).


Academic statement. Please provide a thorough statement detailing your academic and professional background and experience, including a thorough description of your academic research interests. Please be sure to include a description of the activities that you have undertaken in your academic positions as well as an explanation of the activities (research, teaching, publishing, etc.) you would undertake during a fellowship. Please note that academic statements are generally a minimum of one page.

Personal statement. Please provide a thorough statement explaining why you are applying to IIE-SRF for support. Include a clear and detailed account of the threats or risks that you have been facing, and the reasons that you cannot continue your work in your home country at this time. Please note that personal statements are generally a minimum of one page.

Two (2) academic / professional letters of reference from academic and/or professional colleagues who can speak to your research, publications, teaching, or other advanced academic experience. When appropriate, letters should describe your unique expertise and/or contributions to specific intellectual issues / questions.

Two (2) personal letters of reference from colleagues or persons who are aware of the difficulties that you have been facing as well as your professional background.
[IIE-SRF requires a minimum of three (3) reference letters. (Four are generally recommended.) Letters from colleagues both inside and outside of your home country are preferred. Please note that IIE-SRF requires original reference letters. Letters should not use identical text. Each referee should speak to his/her particular knowledge of your academic background and/or circumstances. When possible, please have your referees compose their letters on official letterhead and send them to IIE-SRF directly at

[البريد الإلكتروني محمي]

.]

نسخة من شهادة الدكتوراه الخاصة بك أو درجة أعلى

عينات من أحدث منشوراتك الكتابية أو البحثية.

خطاب من مؤسسة معتمدة للتعليم العالي قد تكون قادرة على استضافة منحة دراسية. هذا ليس شرطا.
للمزيد من المعلومات:
Visit the Official Webpage of the IIE-SRF 2019