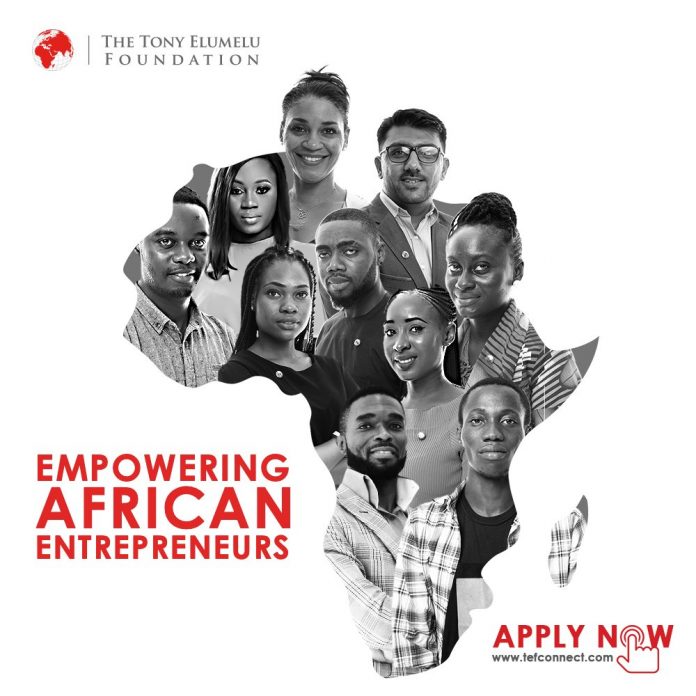 الموعد النهائي لتقديم الطلبات: مارس 1st ، 2019.
The Tony Elumelu Foundation, the leading African-funded and founded philanthropy committed to empowering African entrepreneurs, is now accepting applications for the 2019 cohort of the TEF 5th Cycle of $100m Entrepreneurship Programme.

The Foundation's flagship initiative, the TEF Entrepreneurship Programme, is a 10-year, $100 million commitment to identify, train mentor and fund 10,000 entrepreneurs, capable of changing the face of business across Africa.
متطلبات الأهلية:
The programme is open to all citizens and legal residents of any one of the 54 African countries.
The proposed business must be registered and operate in Africa.


التمويل
Upon completion of the 12-week Start-up Enterprise Toolkit (learning) programme, certification of submitted business plan, provision of required documentation, business bank account, among other requirements, entrepreneurs will qualify for the first stage non-refundable seed capital of $5,000 (terms and conditions apply
Tony Elumelu Entrepreneurs who successfully complete the programme by meeting stipulated requirements and deadlines will be eligible for funding. There are two stages of funding available to entrepreneurs:
First stage seed capital funding of $5,000 (based on the official Central Bank of Nigeria exchange rate)– a non-returnable investment. Please see Terms and Conditions for clarification.
Second stage capital returnable investment – entrepreneurs will apply and be considered for this based on the viability of their business.

معيار الاختيار:
سيتم الحكم على جميع التطبيقات وفقًا لمعايير 5 الأساسية ، وهي:
-جدوى من فكرة العمل.
– Market Opportunity: معرفة وفهم السوق والعملاء والمنافسين لفكرتهم / أعمالهم.
– Financial Understanding: فهم المتطلبات المالية الأساسية لإدارة الأعمال والتكاليف والإيرادات.
– Scalability: يوضح إمكانية النسخ المتماثل ونمو منتجهم أو خدمتهم لخلق فرص العمل والثروة.
– Leadership Potential and Entrepreneurial Skills: إظهار إمكانات القيادة ، وقادرة على جذب الناس والعملاء والموارد.
عملية التطبيق:
All applications must be submitted ONLINE through the application platform of the TEF Connect . You must complete an application form by answering a series of mandatory questions.
After submission, you will receive a confirmation email of receipt within 1 working day.
Applicants can apply on TEFConnect – www.tefconnect.com – the largest digital networking platform for African entrepreneurs.
للمزيد من المعلومات:

قم بزيارة صفحة الويب الرسمية لبرنامج Tony Elumelu Entrepreneurship Program (TEEP) 2019